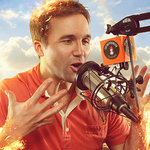 If you are an entrepreneur who wants to be a more interesting interviewee or speaker, one of THE best places to get schooled in this is John Lee Dumas's podcast Entrepreneur on Fire.
When it comes to the importance of communicating your message via stories–and not abstract terms and speaking at the 30,000 foot level–John totally gets it.
And…he's not shy about calling out guests who don't tell stories after he asks for one (and has sent them prep material ahead of time). I'll be dissecting one of these examples soon, but in the meantime, here's an example of how to do it right.
Check out Podcast 703 of EntrepreneursOnFire for more great examples of how to tell compelling stories.
In this episode, John Lee Dumas interviews David Long of MyEmployees.com.
While I recommend listening to the whole interview, the two stories I want to highlight here start at 8:15 and then at 15:06. They are worth listening to solely for the messages about turning adversity into opportunity and "going for it," they are also worth listening to simply because they are great examples of how to tell a story.
As you listen to Dave share these two experiences, notice how you can imagine being there with him. It isn't a dry account of a series of events, but rather compelling stories that draw you in and evoke your emotions.
So…listen away and experience some more excellent examples of how to tell compelling stories from Entrepreneursonfire.com.
To learn more about how to be a great storyteller, check out Powerful Storytelling Techniques