When: June 24rd · 12:45PM-1:45PM
Where: O'Maine Studio, Portland, Maine
Entrance Fee: $10 (please bring cash) includes a light lunch
A Maine Startup & Create Week Partner Program
Who should attend: Business owners, self-employed professionals, leaders and others who want to communicate the value of their ideas, service, and business in a more compelling, interesting, and persuasive way… whether in front of a group or one-to-one.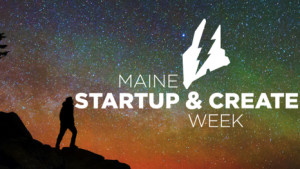 Would you like to grab an audience's attention from the beginning and have them hungering to hear more about you and your business…all the while feeling more comfortable and confident speaking in front of a group than you imagined possible?
Tell good stories.
Would you like the media to find you fascinating and article-worthy?
Tell short, fascinating stories.
Want to make your ideas hit home at an emotional level, so rather than people thinking "Oh…that's interesting" you leave them feeling moved?
Tell stories that impact viscerally, like a punch in the stomach.
Want your audience to never forget your message?
You got it…tell a great story, or better still, tell several.
There's a reason why storytelling is hot in the business world. Experts in marketing, selling, branding, leadership, and presentation skills are all talking about and writing about the power of effective storytelling.
In this program, you will learn how to use stories about you, your business, your customers, and everyday life to:
Breathe life into your web copy
Captivate your audiences when you get the chance to speak
Make your marketing messages interesting and unique
Make your message unforgettable
In this interactive program, we will explore a few of the many story genres you can use to dial up the power and fascination factor in all of your communication.
Where: O'Maine Studio, Portland, Maine
Entrance Fee: $10 (please bring cash) includes a light lunch