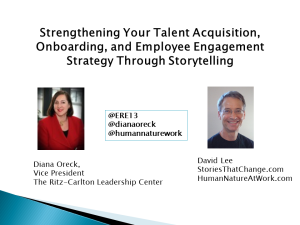 A couple of hours ago, Diana Oreck from Ritz Carlton  and I finished our program on using storytelling to make your Talent Management process more compelling and effective. It was a fun group (way to go gang!) and way fun working with Diana (thanks Diana!).
She shared some of those amazing Ritz Carlton stories that provide a great example of how stories provide both "inspiration and simulation"–to borrow from  Made to Stick's authors Chip and Dan Heath.
Here are two examples of the stories we shared.
More to come…
If you liked, please tweet this to your friends at @ereexpo