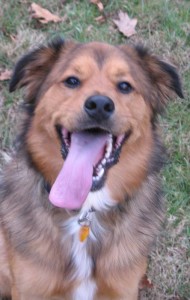 Here's a 30 minute video recorded a couple of years ago, that will give you examples and ideas of how to be on the lookout for everyday life experiences you can use as stories in your presentations and sales conversations.
In this video, you'll hear how I took a simple experience I had while playing with two dogs at the animal shelter I used to volunteer at. One of the dogs, Santana (featured here) required a different approach than Harper.
In the video, I describe how I used the questions I recommend you ask whenever you experience something interesting, surprising, or amusing:
"Hmmm…what is this like?"
"What can this interesting experience be used as a metaphor, as a teaching story?"
So…with that in mind, here's the video.