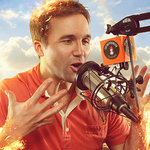 You finally get your chance to talk about your awesome business or business idea.
You're not the only one who doesn't want you to suck at the interview.
Whoever is interviewing you needs you to be interesting.
They need you to say things that that will captivate their readers or listeners.
They don't want you to speak in generalities, abstractions, or platitudes.
They DO want you to tell stories and give examples of your key points.
One of the best ways to learn how to tell stories that make the media and podcasters want to interview you–and that make potential prospects light up when you talk–is to listen to the interviews on EntrepreneurOnFire.com.
You will get great examples of how to do it well and…
…you will occasionally hear examples of people bombing.
When guest do NOT tell stories, host John Lee Dumas is not at all shy about letting them know they are not delivering.
He will also coach them on how to actually tell a story as he had originally requested.
It's sort of like "Shark Tank for Entrepreneurial Storytelling" minus the bruising feedback (yet still candid and very useful).
__________________
Note: for MSCW attendees, David Lee will be doing a partner event on Wed June 24th from 12:45-1:45 title Tell a Better Story. Become More Interesting. Grow Your Business. Here's the scoop
__________________
Let me give you an example of how NOT to answer a question if you're being interviewed.
John:  Give us one of those examples,  because we like the aerial perception. Then we dive into a real story, a real example. We want to be there with you when this happened recently. Tell us a story.

Interviewee: One of the things that I do on a regular basis is I do video book reviews of other experts' books. I'm a huge believer in shining the spotlight on other experts. You obviously, John, are the same way with your show and with your whole empire that you've built.

But I think the more value that we can add, the more that we can feature and leverage other people, shine the spotlight on others, post on other people's Facebook walls messages of gratitude and thanks and sharing the impact that they've had on you personally and professionally, showcasing other people's book reviews.

One of the little mantras that I have as well is people are not tired of hearing from us. They really aren't. What they are tired of is they're tired of hearing from you about you. So who else can you raise up? Who else can you showcase and feature and leverage and point out, because really as experts we're continually seeking expertise.

The more that I shine the spotlight on others the more that shines back on me as someone who is looking to take care of my audience and my tribe and my readers and my followers. So I do that daily, weekly, monthly, always.

John: … great focus. But again, you still haven't told us one story of you doing that in actual practice. Let's hear it… I want to hear about a failure. I don't want to hear about an overarching vague failure and what happened and why. I want you  to take us down to a day, a time, a moment that you failed. I want to be there with you, when you failed. Take us to that moment in time and share with us the lessons you learned from that.
Notice how the interviewee's answer is abstract. He talks in general terms and take away messages. While his message is valuable, it is neither moving nor memorable. You don't feel drawn into it like you do a story. There's no drama. There's no movie playing in your head about what happened.
Compare that response with the gripping story Mike Michalowicz told in his interview:
Take Away Message
Use  examples and short stories to make your important points come to life. –So for instance, in this post, I could have just exhorted you to use stories in your interviewees and explained why. However, by sharing a story of what it sounds like when you don't do that…and then sharing a story of when the interviewee DOES tell a story…it's much clearer what I'm saying and—hopefully—makes the point hit home far more forcefully.
To Apply
Listen to EntrepreneurOnFire.com to get schooled in storytelling
Collect examples and stories that illustrate your key messages
Get coaching if you're unsure of how to tell a good story or aren't sure about the stories you're  using
For More On How to Use Stories to Become a More Interesting and Persuasive Communicator
If you want to learn more about how to use stories to make your message come alive, come to upcoming seminar:
When: June 24rd · 12:45PM-1:45PM
Where: O'Maine Studio, Portland, Maine
A Maine Startup & Create Week Partner Program
For more information